Anne Moore, Printmaker

Each of the prints represented here is an original piece of art, created by heart and hand, and the use of a press. The linocuts are made from hand-cut linoleum blocks and reproduced in limited editions. The monotypes are one-of-a-kind (thus "mono"), built up from layers of imaginative forms on inked plates. Each is unique to itself. Printmaking, a delicate art from a heavy press, who'd have thought?
New book available!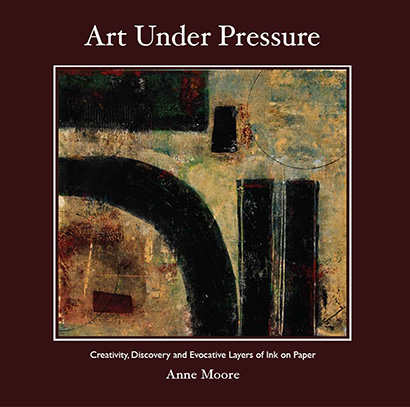 Art Under Pressure
Creativity, Discovery, and Evocative Layers of Ink on Paper
by Anne Moore
Art Under Pressure is a collection of my work as a printmaker. Each unique piece is the result of technique, experience and intuition transferred under pressure from a plate to fine paper. Also included in the book is an explanation of my techniques, a definition of terms, and an abbreviated step-by-step of how I do it. Part retrospective, part catalog, I hope the book will be a useful tool for others in the field, and a treasure for any lover of art, intrigue and beauty.